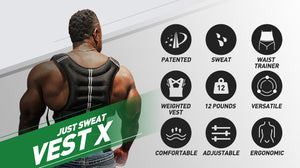 Pacearth Kickstarter Project! Vest X | 2-in-1 Weighted Vest, Wear a Real Gym
Vest X
, a combination of waist trainer and weighted vest, adds resistance and creates a heated environment for intensive training and more sweat to cool down your body.
Vest X is designed and available for different torsos. Whether you are a beginner or a fitness enthusiast, you're able to stay fit with Vest X.
Increasing strength and endurance
Accelerating blood flow
Controlling weights
... and more
Acomplish your fittness goals faster!


Inner full coverage panel and 2 outer straps wrap around your torso snugly, helping you to warm up in a short time and boost perspiration to maximize your workout performance.


Support your spine and waist greatly. Ideal for those who are undergoing muscle recovery and rehabilitation.

Ergonomically designed, no extra burden! The Vest X distributes weight over your entire body evenly and fits snugly around your body without disturbing your exercises.



Just put on the Vest X and start your workout routine!

The waist-trainer with weighted vest helps challenging your limit by adding resistance and pressure on your running, push-up, sit-up, or even cleaning the house!
---